Make the Right Choice!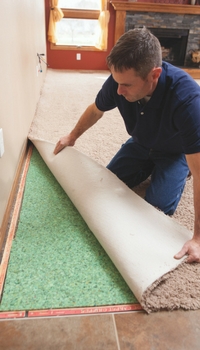 Carpet continues to be one of the most popular flooring options because it offers comfort, warmth, and style. But, in order to truly get the most out of your new carpet, it's important to choose the right carpet padding.
What is carpet padding? Carpet padding is essentially a layer of material that is installed directly underneath the carpet's surface. There are a few different types of paddings that are available, but foam, fiber, and rubber are the most popular. Although the entire carpet pad is hidden underneath the surface, it is extremely important to the carpet as a whole. Carpet padding most notably protects the carpet from foot traffic and other impacts. It provides strength and resistance to the carpet so that the fibers do not crush. As a result, carpets with the appropriate carpet paddings will last for a longer time than those without the appropriate paddings.
At the same time, carpet padding not only helps the carpet; it helps you as well! With the right carpet pad, the carpet will be soft, warm, and comfortable underfoot. You will truly enjoy walking on the carpet, especially since you know that the padding will help keep it strong! In addition, carpet padding can make the carpet easier to clean because it leads to more efficient vacuuming.
When it comes to actually choosing the right carpet pad for your setting, the major consideration is thickness. Thick carpet pads are usually softer and warmer underfoot, and they also can create more luxurious appearances. However, these pads tend to wear down and sometimes wrinkle in areas with heavy traffic. In areas with heavy traffic, thinner carpet pads are more appropriate. They aren't as comfortable underfoot, but they will help keep the carpet strong against most impacts.
To learn more about carpet padding, visit Migala Carpet One in in Portage or Kalamazoo, MI. Our experts will help you make the perfect choice for your new carpet or your new rug!